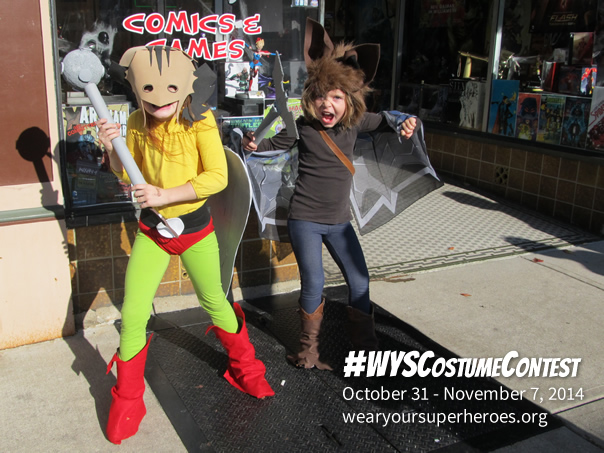 We are pleased to announce the 2014 Wear Your Superheroes Halloween Costume Contest, which we hope will be the first of many!
To participate, simply post a picture of yourself (or your child) in your superhero-themed costume to the Wear Your Superheroes Facebook page, along with the hashtag #WYSCostumeContest in the description, between Friday, October 31 and Friday, November 7, 2014.
Thanks to the generosity of our supporters, there will be prizes!
The "People's Choice" prize, a $50 code for merchandise at Zazzle.com, will go to the person whose photo receives the most Likes between October 31 and November 7.
The "Best Children's Costume" prize, a free Super Blanky™ from SuperBlanky.com, will be awarded for the child's costume (for a child 12 or under) that we select for being the most creative and well executed.
In addition, we will be giving away three gift certificate prizes to the top entries in our "Best Local Costume" category, which is for people in the Greater Cincinnati area. Anyone who wants to participate in the local contest should also use the hashtag #WYSCincy and must be a resident of Ohio, Kentucky, or Indiana. The first-place winner will receive a $25 gift certificate for Arcadian Comics & Games in Newport, KY, and the second- and third-place winners will each receive a $10 gift certificate for Arcadian.
As an added bonus, Arcadian has offered a free comic book for anyone who participates in our contest, while supplies last. All you have to do is stop by their shop (627 Monmouth St., Newport, KY 41071) and show a picture of your costume entry within 30 days of the end of the contest.
Even if you're not wearing a superhero costume this Halloween, we encourage you to get sneaky! If you find a subtle way to incorporate your favorite superhero into your costume (for example, a superhero logo on your princess or firefighter costume), please share it!
For complete details about the contest, please refer to the Official Contest Rules and Regulations.
Please note that for legal reasons, this contest is open to United States residents only.  If you're located outside the U.S., or if you don't want to participate but still would like to share a photo of your superhero apparel, feel free to post your picture to our page and just omit the hashtag.
You can keep track of all the photos posted to our Facebook page by going to the "Photos of Wear Your Superheroes" album page.
We also invite you to share your photos on Twitter (@WearSuperheroes) and Instagram (@wearyoursuperheroes), but please note that those photos will not be considered contest entries, as this is a Facebook-only event.
Thanks for your continued support! Have a safe and fun Halloween!
– Tom, Mindy, and Stacy